Plum Olive ("Damaskinoelià")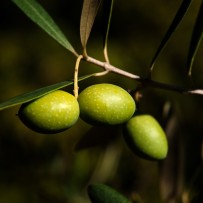 The variety Plum Olive ("Damaskinoelià" also known as "Orchas Olive") is revival of a very old – perhaps ancient – Greek olive variety. There is a view that is a descendant of the ancient Greek variety "Orchas" or "Orchemon" probably because of the similarity of the Plum Olive to the shape and size of testicle. The tree is found sporadically among other trees with cultivated varieties almost all over Greece, but a systematic cultivation is carried out in the area from the coast towards the mainland at the borders between Argolida and Arcadia Provinces at the East side of the Peloponnese.
The tree produces the largest olive fruit size, often exceeding 20 gr with a characteristic conical-cylindrical shape and is also known by the local name "Gaidourelià". The total annual production of this variety is about 2000 tons.
Usually these olives are processed naturally based on old traditional preservation methods by salt brine achieving a unique texture and taste as well as blonde/gold colour (green olives).
These olives can yield very good quality of extra virgin olive oil perhaps a unique characteristic amongst the varieties of table olive.
FAQ
What is "natural olives"?
Olives which during their treatment only brine has been used and not alkaline solution  (caustic soda or potash)
Why is the treatment in brine better than alkaline?
Alkaline solution destroys the bitter substances of the olives in few hours, something that would normally take longer time using brine.
But at the same time alkaline solution acts also on all the nutrients of the olive (polyphenols) and so reducing its nutritional value
How long can Plum olives be stored in the fridge once opened?
Once the vacuum pack is opened, the olives can safely be stored in the fridge for 10 days.
Can I put plum olives in a jar to store them in the fridge?
Yes, olives can be put in a jar for storing in the fridge but the jar should be left open.