Company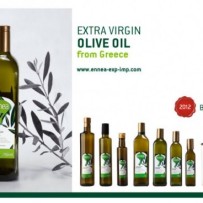 "ennea" is a Company exporting High Quality Greek products and Delicacies, always with respect to the relative Culinary Tradition.
"ennea" products are selective, not industrially produced, but of relatively small production using ingredients of Fine Quality, coming from small Greek Family producers who have been working with the Company for long time.
The goal of "ennea" is to market their products with consideration, keep and enforce their high standards, establishing ensured business' deals and create satisfied consumers all over the world.
"ennea" are looking to co-operate on long term basis with reliable and responsible associates who will present, Import / Distribute and Market their products.
"ennea" was established to market Greek Premium Extra Virgin Olive Oil and following the feedback received the range of products has expanded to include Complementary Delicacies such as Plum Olives, Honey Vinegar, Honey, Raisins, and Marmalades.