Corinthian Raisins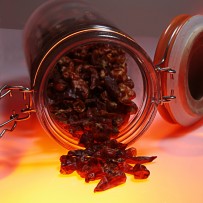 In the past raisins were a basic element of the diet of the Ancient Greeks, who thought they had magic and notable beneficial attributes although then they could not prove the benefits they were hiding based on clinical studies as it has been done nowadays, but they would perceive this during their everyday life.
Corinthian Raisins are a historical and traditional product of Greek economic and social life.
They are the trademark of the area of Corinth City, a continuation of the ancient City of Corinth. They are referred to in ancient scripts by Plato and Herodotus and during the ancient times Corinthian Raisins were used as a monetary unit.
Corinthian Raisins have been produced in Greece since the time of Homer and were mentioned by the Ancient Greek philosopher Aristotle as early as 400 B.C.
Written records of trading and commerce exist since the 12th century.
In Ancient Greece wine was accompanied by raisins during symposiums. Raisins were also used in cooking and in sweet making.
Ancient Greeks and Romans decorated sites of worship with raisins and they offered them as prizes to the winners of athletic contests.
During the Byzantine era the use of raisins in cooking continued, while large quantities were consumed during long periods of fasting.
About 80% of the world production of Corinthian Raisins comes from Greece, while the variety is of dual purpose as it can be dried or used in wine making.
It is the only variety of raisins for which clinical studies have been conducted – on volunteers and not on animals – on its beneficial attributes, from the Medical School of the University of Athens, the Harokopio University of Athens and Peoples Hospital of Athens. The results been published on the scientific magazine «Plant Foods for Human Nutrition»:
Corinthian Raisins are a very good source of polyphenols and antioxidising ingredients. Polyphenols have antioxidising action (they protect LDL cholesterol against oxidization and reduce cholesterol which is deposited on tissues, they also reduce the formation of atheromatic plaque in vessels which reduces the risk of heart disease.
They contain anticarcinogenic properties – mainly protecting from cancers that affect the large intestine and stomach by rendering cancer cells into cellular death.
They provide antimicrobial and antibacterial action as well as vessel dilating action.
They contain large amounts of minerals such as magnesium, zinc, iron, potassium (regulators of arterial pressure) which work towards reduction of water retention.
As Corinthian Raisins are consumed with the skin, they have a high amount of dietary fibres – higher than other types of raisins and in comparison to other fruits. Dietary fibres act as a bed for bacteria of the large intestine giving Corinthian Raisins probiotic properties which help the good function of the intestine whilst preventing the composition of cholesterol.
The sweetness of Corinthian Raisins is due to the high fructose content which has a low Glycaemic Index (GI) of 19, against glucose (100) and as result Corinthian Raisins have a medium GI of 55-63.
Controlled consumption of Corinthian Raisins can lead to significant reduction of diastolic arterial pressure by 5mmHg.
Further study is under progress on the effect of Corinthian Raisins in patients with adipose (fatty) liver.
It has been found that cooking does not deprive Corinthian Raisins of their antioxidant action. Studies have shown that the antioxidant action of Corinthian Raisins remains unaltered and in some cases it increases during cooking. For example vanillin the main polyphenol of the Corinthian Raisins is transformed into vanillic acid – a more active form showing that the antioxidant effect is not wasted but instead is fortified.
Considering that Corinthian Raisins are a very nutritious fruit containing a variety of nutrients beneficial to human health while at the same time providing biologically active ingredients it would be good for one to consume two table spoons of Corinthian Raisins daily.